Photographing the Eagle during the breeding season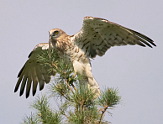 We, Roman Vatrasevich and I, began to photograph one male Short-toed Eagle right after his arrival at the breeding territory in Mizhrichynskyi Park /map/, were taking the photos every 5-8 weeks and finished to do it about a week before his departure to Africa. We aimed to record the moulting of the biggest primaries.
Categories: En-Misc, Mizhrichynskyi Park, Our galleries, PISMENNYI Konstantin.