Örs returned to Hungary after 2 years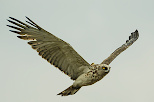 Örs the satellite-tagged Short-toed Eagle, marked as a juvenile in 2017, has returned to Hungary after two years. He hatched in the area of the Kiskunság National Park /map/ being famous for hosting the only known nesting population in the Hungarian lowlands. He spent the past winter in the Sahel Zone on the border of Sudan and South Sudan, a regular wintering area for the species. On the last day of March, he packed up and started his northbound migration, however, he stopped in Central Turkey and we were worried that he would spend the entire summer there again, after the summer of 2018. Fortunately, he decided to move on on June 24 and to our delight, he reached the border between Croatia and Hungary a bit more than a week later. Since then, he paid a visit to Burgenland, Austria and Western Slovakia where he stopped at military bases, which were probably familiar for him since he was born in one of those in Hungary. Recently, he has been in Northwestern Hungary, an area where observations of this species are quite rare.
We hope eventually he will visit his home ground and may also mark a few, so far unknown, territories in the Kiskunság area.
The map of Örs' tracks is available on SATELLITETRACKING.EU.
Categories: En-Misc, Maps, PAPP Gábor, Photos, The National Park of Kiskunság.