Some photos taken by Frédéric Pelsy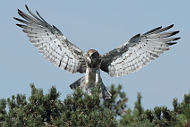 We would like to express our gratitude to Frédéric Pelsy for sharing these not numerous, but marvelous pictures of Short-toed Eagles in Sologne (France) /map/. The male and the females are well recognizable by colouration of their plumage which is seen in detail. Because of that several of the photos have also been added to our Age/Sex handbook.
Categories: Our galleries, Sologne.