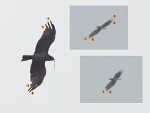 During 10 years of observations in Central Northern Ukraine (Kiev Region /map/, Mizhrichynskyi Park /map/) a lot of photos of several the same Short-toed Eagles have been taken. Some of them can be viewed in the galleries (just an example). Since Short-toed Eaglers' the biggest flight feathers are often seen from a great distance they are easily recognizable in photos. Especially it concerns 4th-10th primaries of both wings. Accumulation of data allowed to determine inter-moulting periods of certain feathers:
• K. PISMENNYI, 2013 – Short-toed Eagle. Replacement of the biggest 14 flight feathers // short-toed-eagle.net –

(En).
First of all, the results might be of interest as additional information for recognizing individuals in the nature from year to year, together with individually typical plumage colouration and silhouettes in flight at certain angles in certain poses. Regular photographing of Short-toed Eagles at their breeding sites and foraging grounds allows to distinguish them with high probability without special marking, without stressing and often even without disturbing the birds at all.