This story is published on the Infos Étang de Berre website:
• René Coste, 2010 – Le sauvetage de «Balthazar», le circaète blessé, les amoureux des beaux oiseaux et, un vent de colère [Salvation of «Balthazar» – a wounded Short-toed Eagle] –

(Fr).
It has reminded me a story of «Jeanne» – an invalid young Short-toed Eagle, which had been found at the nesting site with a broken right wing in 2008. A short article about the bird was written by me and was kindly translated by Bernard Joubert for its publication in the 8th issue of La Plume du Circaète. The eagle had lived 2 years and finally died on August 5th 2010 in the Odessa Zoo.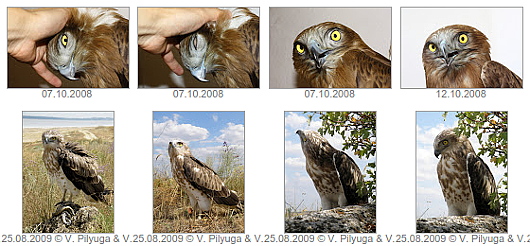 Veterinarians made the post-mortem examination, which showed not only a reason of the death – the bad condition of the bird's digestive system, but also that «Jeanne» had actually been a male. My mistake in determination of the bird's sex had been made because of several reasons: