GSM tracking of Short-toed Eagle from Poland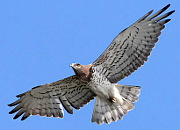 Adult Short-toed Eagle female was equipped with a GPS-GSM logger in the southern part of Lublin Province /map/ (south-eastern Poland) this year. She started the autumn migration quite early. Detailed information is available on the Lublin Ornithology Society site. The migration map can be viewed here. Please note: each red point on the map is provided with a detailed comment.
Categories: En-Misc, Maps, Pl, South of Lublin Province.