Live HD broadcast from Short-toed Eagle nest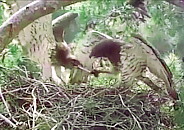 Many thanks to Guilad Friedemann for kind information about a new project of the KKL Fund – HD Web camera at a nest of Short-toed Eagle in Israel /map/. The online stream and a brief description of the project are available in Hebrew now, the English translation will appear soon. Besides, you can find texts about Guilad's research in English and in Hebrew, view current data on observations of STE in the country and enjoy a video recently recorded with the installed camera; more clips are also listed on this page now. So help you Google Translate!
UPD May 1st, 2015: the Facebook community has been created for uploading and watching video clips made with the camera.
Categories: En-Misc, FRIEDEMANN Guilad, Iw, Judean Slopes (Foothills), Live broadcasts, Maps, Online DB.