Northern Ukraine. Photo-documenting 2012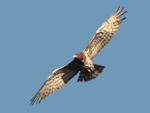 Just like last year I would like to share some photos, which, though have not perfect quality, can tell something about different aspects of Short-toed Eagles' life as here, in Northern Ukraine, so in general. Also like last year the photo gallery will be updated with new images during the season. Every update will be described in comments.
Categories: En-Misc, Kiev Region, Mizhrichynskyi Park, Our galleries, PISMENNYI Konstantin, Ukraine.