STE nests in Israel: the 5th year of live streaming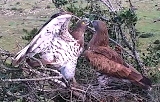 The live broadcast from a nest of the same pair of Short-toed Eagles living in the Judean Foothills /map/ has been renewed by Guilad Friedemann and the team again. This is the fourth breeding season of the pair we can watch in real time on the Israeli Birding Portal, and the fifth one if you include the live stream in 2015. The history of the current project and all video footages of Short-toed Eagles and other birds of prey available since 2016 can be found on the Israel Raptor Nest Cam Facebook page.
Please note: when the broadcast is unavailable just reload the page or revisit it a bit later.
Categories: En-Misc, FRIEDEMANN Guilad, Iw, Judean Slopes (Foothills), Live broadcasts.